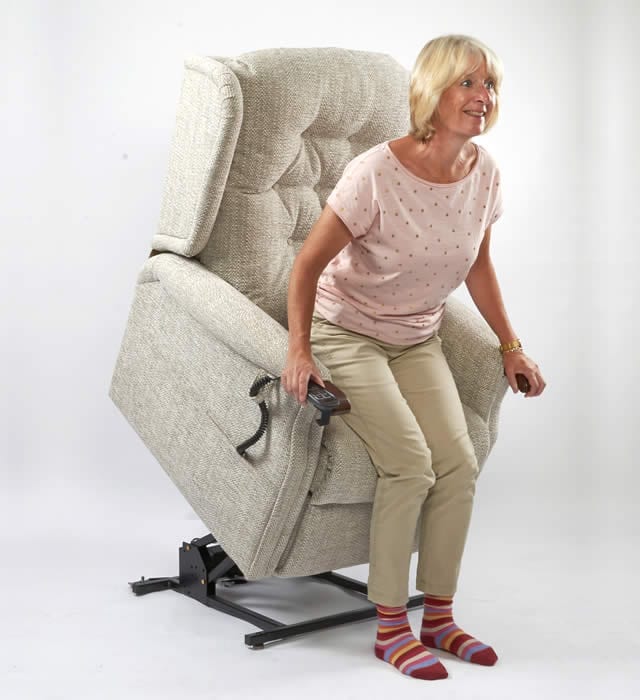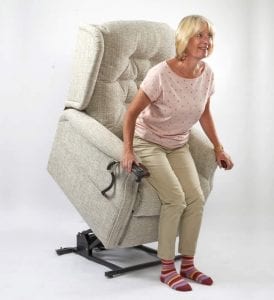 If you or your loved one are finding it hard to sit down or get up from the sofa, been advised to raise their legs while sitting, or just struggling to stay comfortable in a chair, then you may be considering some specialist seating.
Because sitting down should be relaxing. It shouldn't be painful, and it shouldn't be cause for stress as you sit and dread the thought of getting up.
There are many different types of chair available, covering all levels of assistance and cushioning. But before you jump in, and get baffled by the jargon, we're here to offer a little advice on what to look for.
For those who are steady on their feet, and have decent upper body strength, a riser cushion may be enough. These work to gently lift when weight is removed (manual and powered versions are available). An important thing to consider when buying one of these is that they fit your chair snugly, and your existing chair is solid and stable enough to prevent wobbling.
A more stable option is the riser chair which has a built-in riser cushion, again either manual or powered. Some also offer a tilt-forward mechanism which is useful for those who lack strength in their arms.
For maximum comfort and for something that will last though, choose a riser recliner. These also come in a range of designs and are usually customisable.
It is vital that you try before you buy, if at all possible.
If the chair is not the right fit, it can cause aches, pains and chafing. In other words, the exact opposite of what you are looking for. So here are our top tips:
Make sure the seat is wide enough to sit without any squeezing, but still use the arm rests comfortably. Allow a few inches either side of the hips.
Think right-angles – the knees and the arms should sit easily bent, without strain to feet or shoulders.
Ensure the seat is deep enough that the whole thigh is supported, but not too deep that you are slumping to lean against the back. If you need additional back support cushions then remember to allow extra depth.
If opting for a head rest, this needs to be at the right height.
Some chairs offer a choice of back cushions – whether hard, soft or a layered adjustable effect known as a waterfall back. Again, it's essential to try the different options before buying.
Finally, remember that riser recliners are bulky, and need up to 24 inches of space between them and the wall to accommodate the full recline. If space is at a premium, you may consider a Wall-hugger chair which move forward as they recline – though these of course need some extra room in front.
Follow these pointers and your chosen chair will improve home life a great deal. And for those who will be using the riser recliner for long periods, now or in the future, there are lots of all-singing options to avoid painful pressure points – like memory-foam seats or foot stools, and even built-in massage systems.
Take your time, and choose wisely. When relaxation time really is relaxing, it has positive effects on the whole of life.